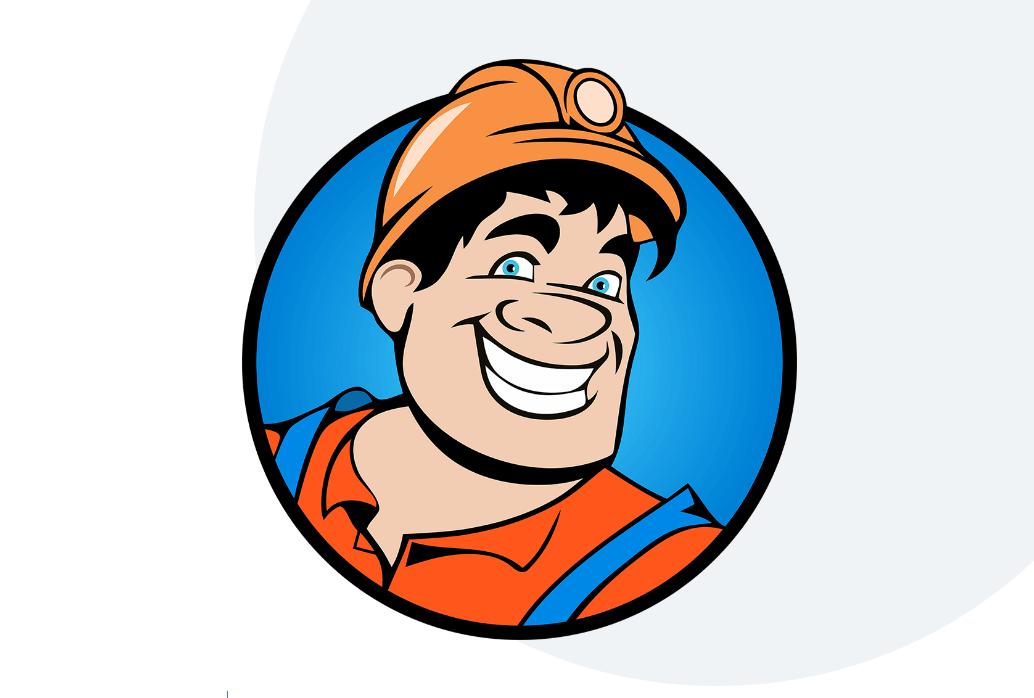 WordPress
Maintenance page for WordPress with ready made themes and drag and drop builder
WordPress comes with many perks and one of them being high customizability. However, making changes on a website with regular visitors can sometimes become a very messy and long process. A good practice is to put a maintenance page, so your visitors don't land on a website that is slow, breaking, or just doesn't function properly.
Utilizing this kind of page for marketing purposes is a very good practice to keep the visitors in the circle of information. This can be done by sending them to your social media channels, and mailing lists, or even asking them a questionnaire.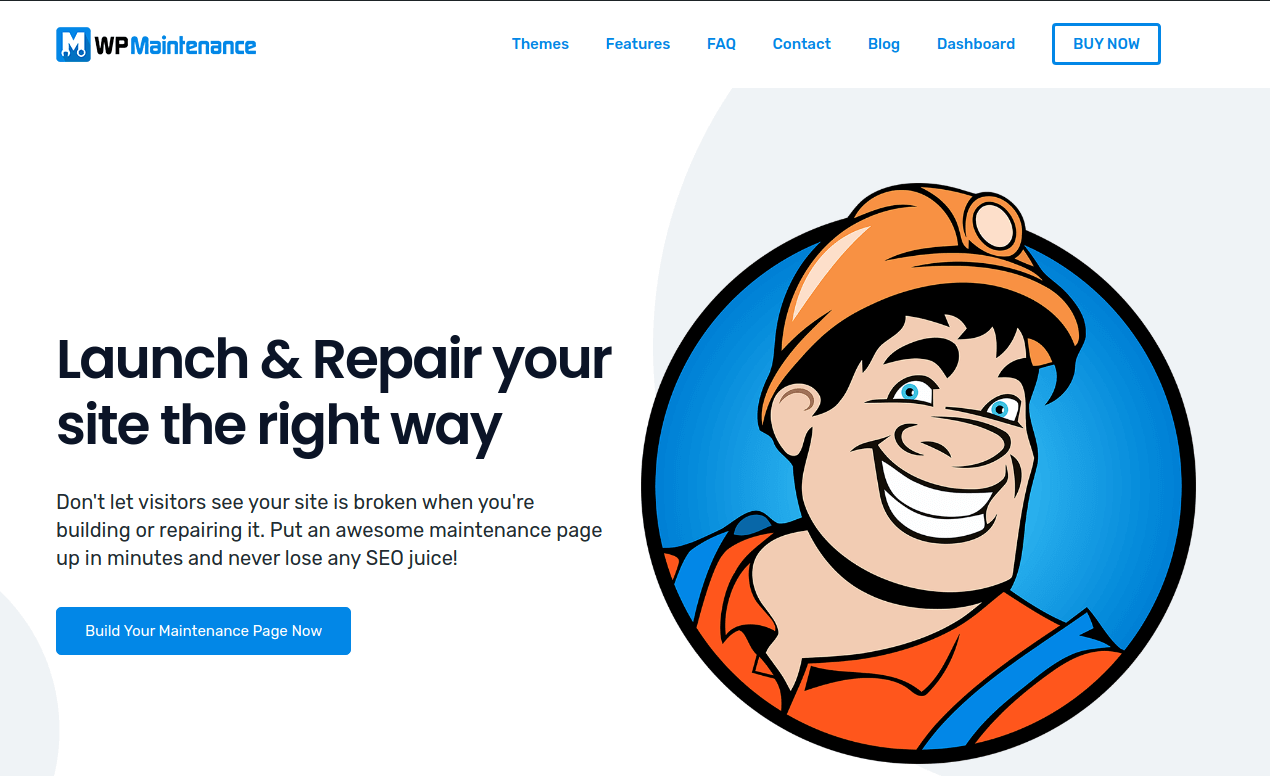 Making such a page shouldn't take a lot of your time, since you are already too busy improving your website. Luckily there is a plugin that does this all for you and as a bonus wraps your maintenance pages in a nice-looking, optimized and functional experience for your visitors.
As we already concluded, the solution we are looking for as our maintenance page should save time. This is why the first thing we want to underline is that WP Maintenance comes with excellent and reliable support.
Now that we are assured that we have somebody to talk to if we get stuck let's see what main features this plugin provides.
Large image library
At least visually, every maintenance page's main part is the background image. Since it takes between 70% and 90% of the view, it is highly recommendable that this image corresponds with the message we want to send.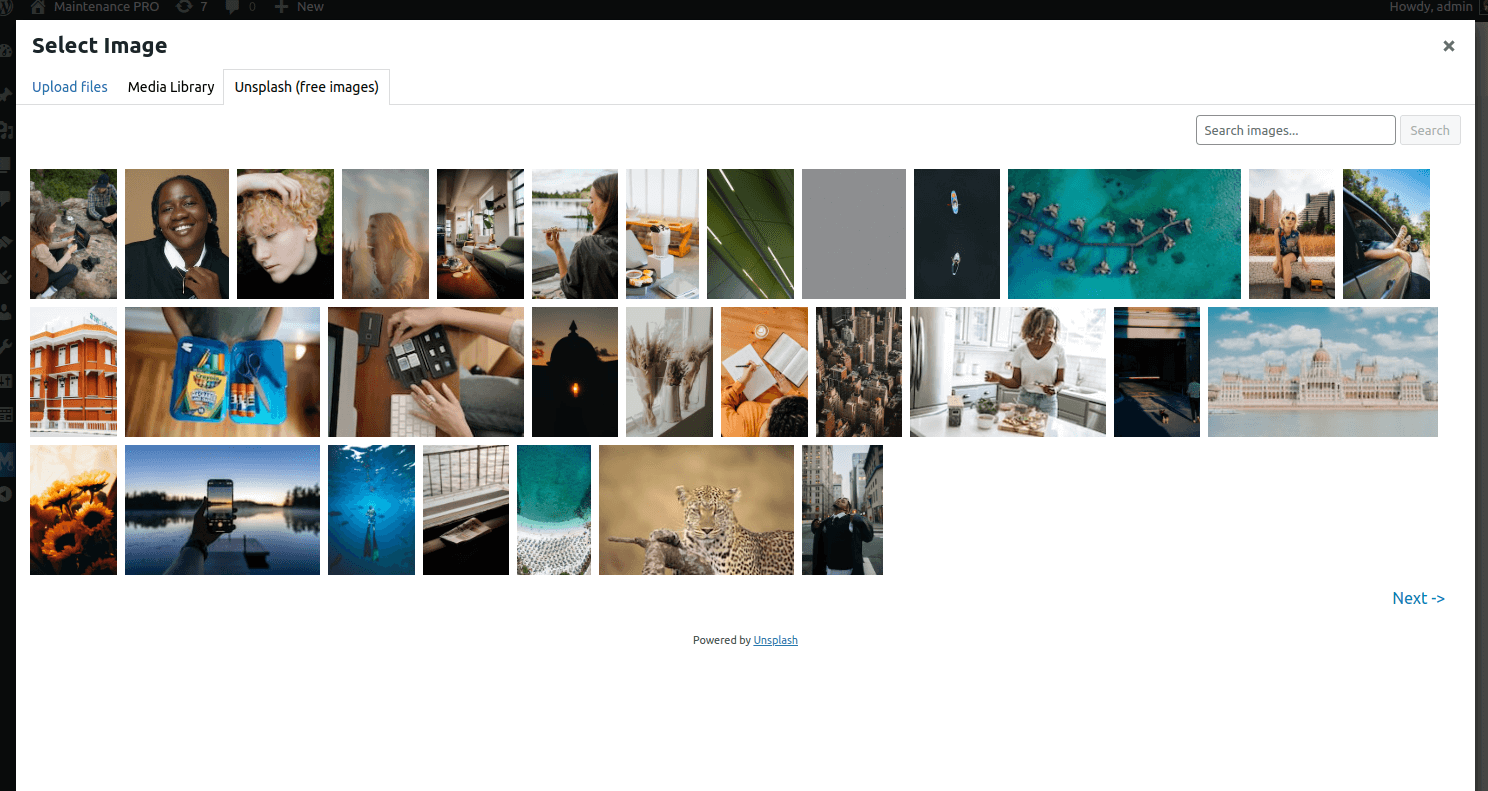 Finding the right free-to-use images can be a very time-consuming process. If you also want to make some adjustments and edit the image while thinking about the correct dimensions and format that it needs to be in, it can easily add up to a few hours of work.
WP Maintenance comes with the image library of a few million images ready to use on click. You can make adjustments and edit the image straight from the WordPress dashboard.
Now that the process is highly optimized, this plugin allows you to search and experiment with different visual combinations that suit your need.
20+ premade themes
Moving on from images but still staying in the area of visual elements, it is very important to have a nice-looking design for the maintenance page. This is easily achieved by simply choosing and installing the most suitable theme for your need.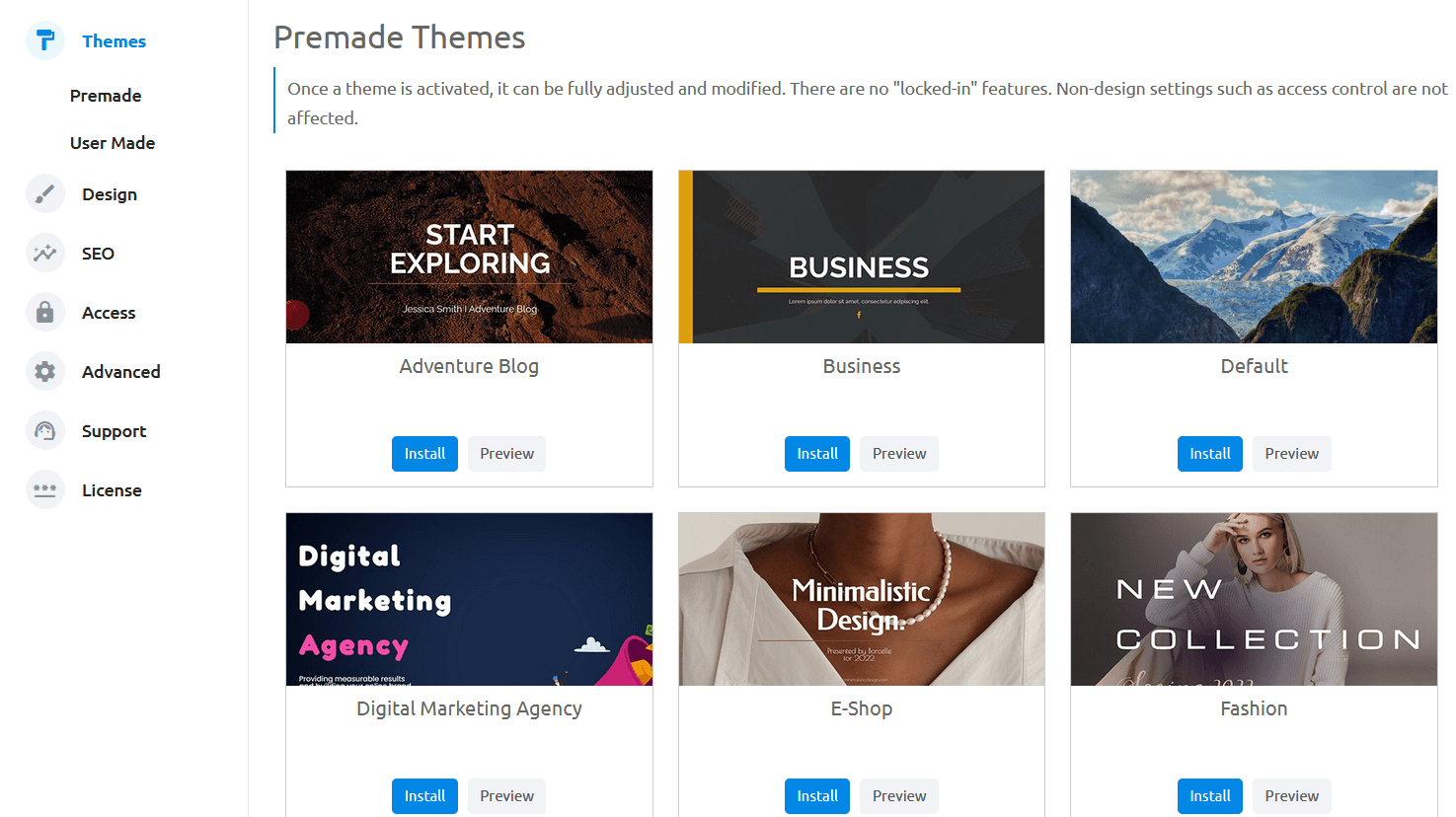 Head to the Themes section of the plugin and explore the available themes. Once you select, click on Install, and you are ready to go! Don't worry if the theme doesn't absolutely fit your vision of the perfect page.
All of the themes are customizable when it comes to functionalities and visual elements that you see. Since you already choose your background image, you might want to change that first and then move on towards what this plugin is great at – drag and drop editing.
Drag and drop editor
WP Maintenance comes with a drag-and-drop editor that comes with a bunch of modules that you can use to display your logo, text, forms, videos, maps, social media, and much more. This is the moment to think about how do you want to utilize your website visitors while it is not available.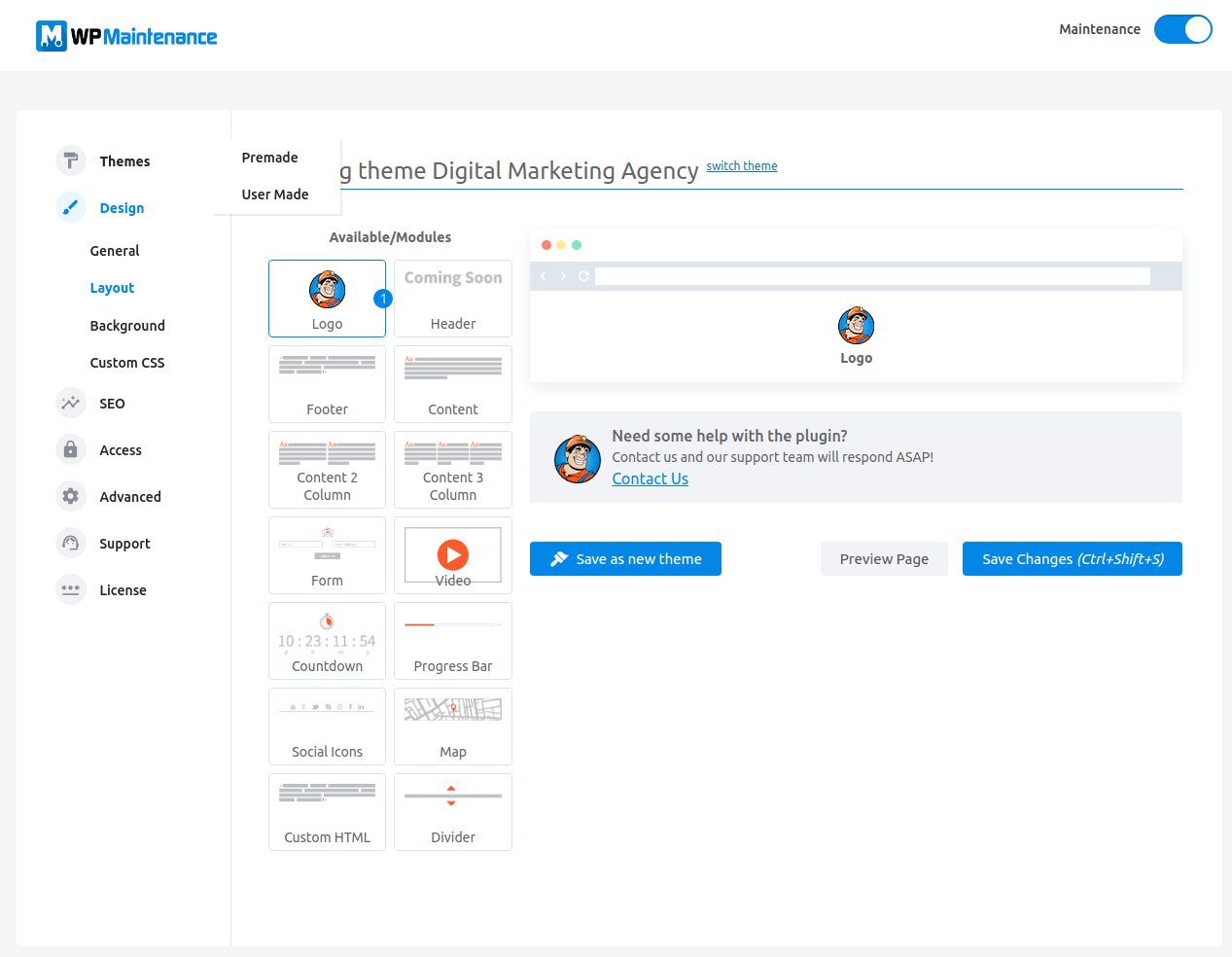 Giving a sense of anticipation with the countdown timer module is a great way to let the world know when is your website up and running, but also to give some sense of urgency, marketing-wise. Consider what helpful information you can provide your visitors with the content module.
The more is better philosophy doesn't quite apply when it comes to maintenance pages. Use the prebuilt themes as the reference for how many modules you should include keeping your page clean, simple, and user-friendly.
Final thoughts and alternatives
Keep in mind that visitors come to your website expecting one thing, and you are serving them something else – flip this opportunity to your favor. Since WP Maintenance comes with built-in SEO optimization don't worry about the rankings your website has.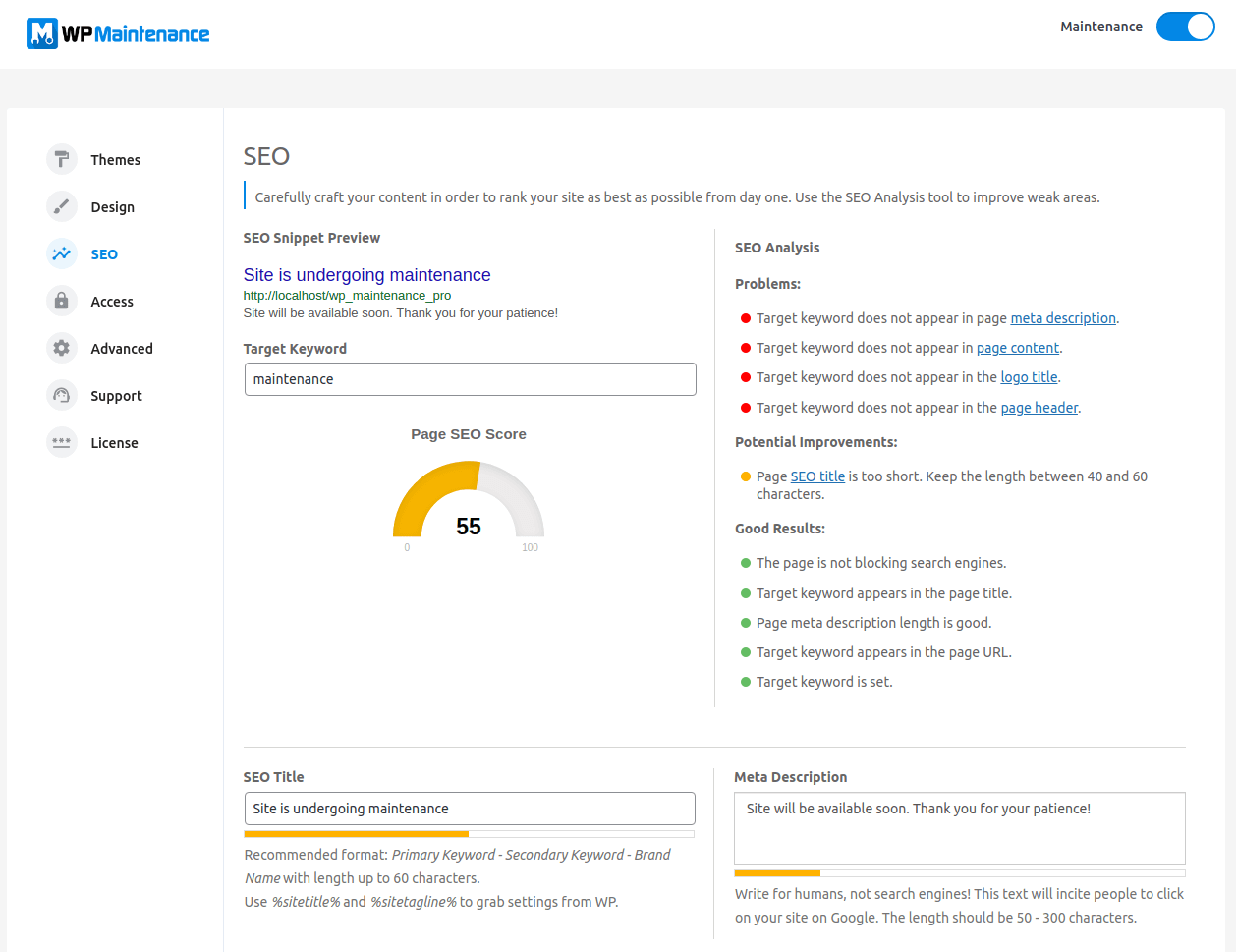 In case you like the idea of building the maintenance page but were not absolutely charmed by the plugin described in this article, we are leaving you some space to explore an alternative.
Coming Soon & Maintenance Mode is yet another powerful maintenance page plugin that offers a big image library, more than 170 themes, and built-in marketing software.
Security is a very important factor of the internet nowadays. This is why we want to mention the WP Force SSL plugin that comes with a content scanner and SSL monitoring, so you ensure that your website is and looks safe, whether you are maintaining the website or not!