WordPress
Security Ninja – Complete WordPress Site Protection
This article will focus on the review of Security Ninja – a well-known plugin for WordPress site protection.

But before we start with the review, let's see why WordPress security is so important.
Why is WordPress security important?
Google loves secure websites, and it always ranks the highest websites that are safe.
Safe websites also improve user experience and improve your brand recognition and reputation.
Secure websites prevent loss in revenue.
Secure websites keep customer information safe.
Security Ninja – WordPress plugin for Site Protection
Security Ninja is a plugin that offers complete WordPress site protection. The plugin has been on the market for more than 11 years and has more than 10 thousand users.
It is considered one of the best plugins for WordPress site protection.
Security Nina comes in free and paid versions. And while the free version has many terrific features, we will focus the review on the pro plan of Security Ninja.
Security Nina overview
As already mentioned, Security Ninja offers complete WordPress site protection. The plugin includes a firewall, malware scanner, scheduled scans, security tests, and many more terrific features.
The plugin is easy to set up and use, and the installation requires only a few minutes of your time.
The plugin does not make any changes to the website. It simply checks your website for security issues and vulnerabilities and acts against attacks.
Security Ninja for Main WP
The MainWP dashboard extension allows administrators to manage various sites from a single centralized dashboard.
All you have to do to use Security Ninja for Main WP is to install the extension.
The extension allows users to monitor if any website has vulnerabilities. Users can see the results after the extension checks a list of over 2700+ known vulnerabilities.
Security Ninja – Free vs. Paid version
The free version of Security Ninja offers 50+ security tests for a website that help website owners discover all issues on the website.
Also, as an additional feature of the free version, Security Ninja introduced a vulnerability scanner. This allows website owners to detect whether they installed plugins with vulnerabilities to the site.
Putting forward the paid version of the Security Ninja plugin has seven key features. We will now present each one of them.
WordPress Firewall
With this feature, Security Ninja prevents hackers and attackers access your website.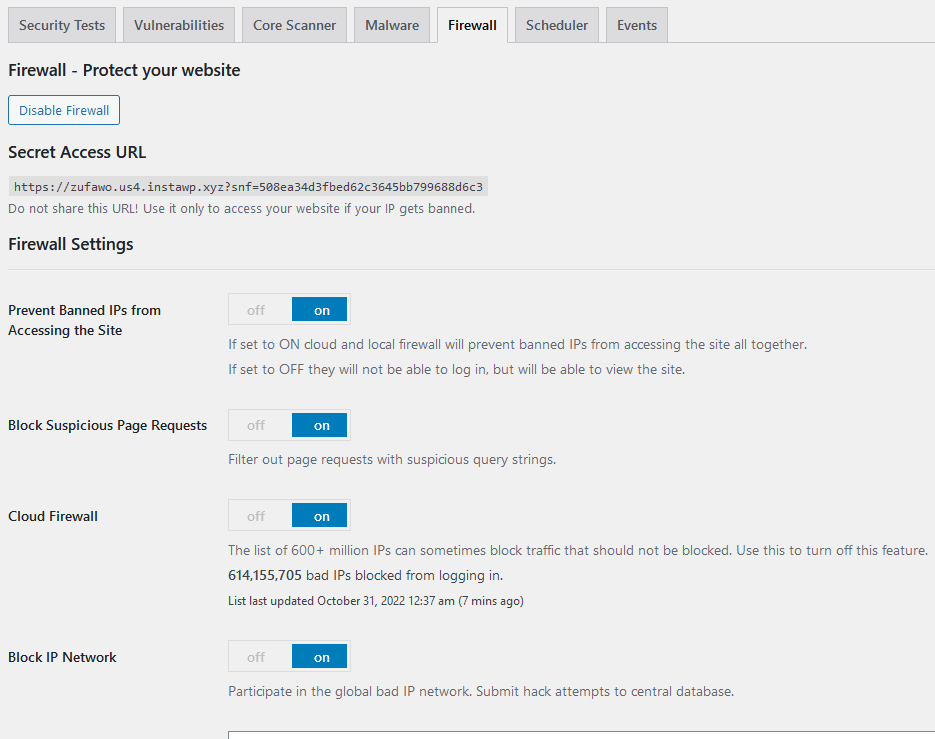 The Firewall blocks 600+ million IPs. This list of poor IP addresses is updated twice a day. Also, with the feature, users can stop visitors from particular countries or redirect blocked users to any other URL.
The firewall feature allows users to rename default login and admin, preventing hackers from knowing where to log in. It also blocks spam from 100.000+ spammers, stops suspicious requests, and blocks attempts to login tries with the wrong passwords and unknown users.
Lastly, WordPress firewall allows you to rename login to protect the website from automated scripts.
Malware Scanner
A malware scanner checks the website to find any malicious code that can be running the website.
With only one click scanner checks all disabled and active theme and plugin files. The feature also scanned all files uploaded to the wp-content folder, WordPress installation, and DB table.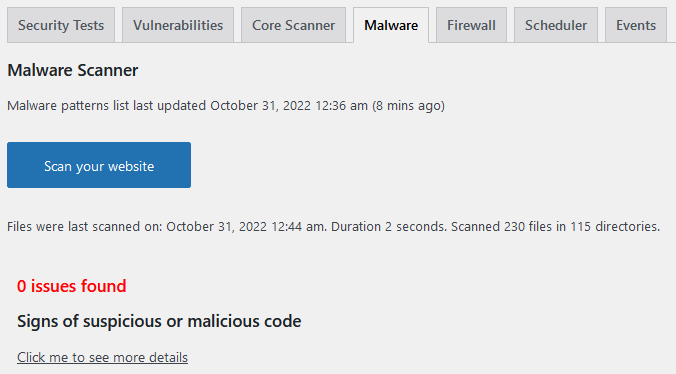 Malware scanner also whitelists all safe files and deletes those that should not be present.
This Security Ninja feature is optimized for large WP installations with a mass number of files. It is also compatible with all themes and plugins.
Core Scanner Module
This feature helps you to find unknown files and modifications to the original WP files.
Core Scanner Module compares your site's core WP files with the secure copy maintained by wordpress.org.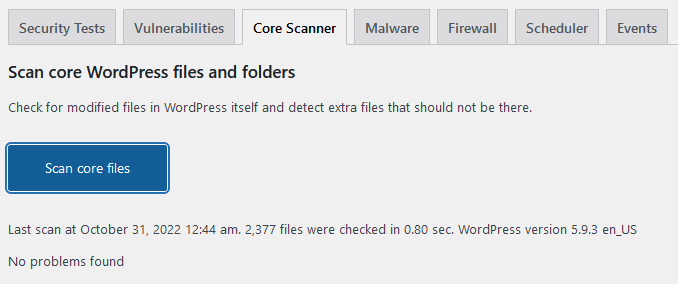 The feature is the perfect option in case you want to restore hacked sites.
Core Scanner Module does the following:
Scans the whole site looking for modified WP files
Quickly identifies problematic files
Restores modified files
Fixes accidental file edits or deletes
Fixes a broken WP auto-updates
Views files source
It gives color-coded updates in 5 categories
Offers detailed description of the problem
Scheduled Scanner
With this feature, you can get an email notification once your site becomes endangered.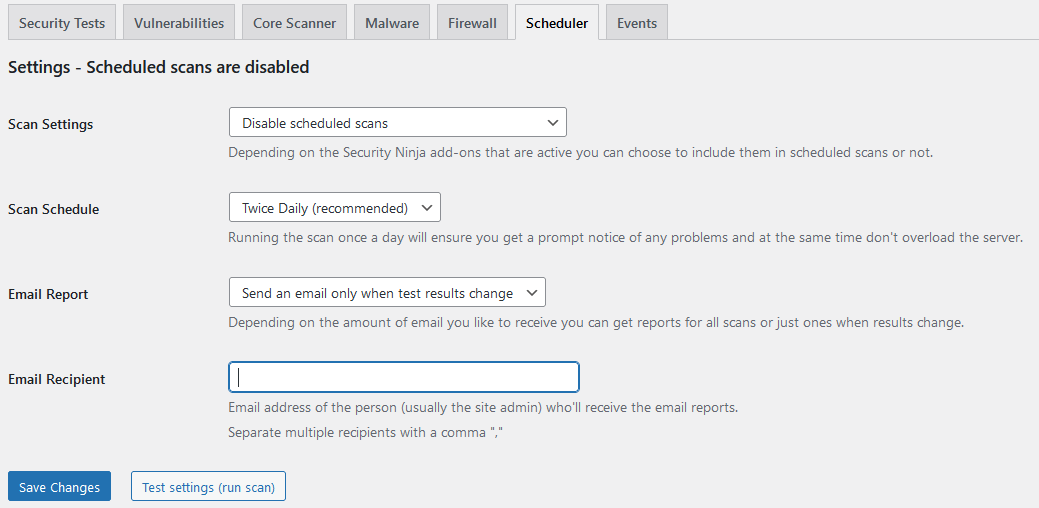 The scheduled scanner constantly checks the website looking for malicious code.
The feature is easy to set up. You should only set it up once, and the scanner will automatically perform tasks according to your criteria. You can also get email reports after each scan.
Events Logger Module
This Security Ninja feature keeps track of all website logs.
The event Logger Module follows over 50 events on the website, helping administrators to know who did what on the site.
It is also easy to filter the events by particular criteria. Users can also receive email notifications in case certain events occur.
Each event Logger Module records comes with the following details:
Date and time
Description of the event
Username and role of the person who performed the event
The IP address of the user
Module
WordPress action
WordPress Vulnerability Scanner
This feature warns users in case of any problems that could affect the website's security and expose it to hackers.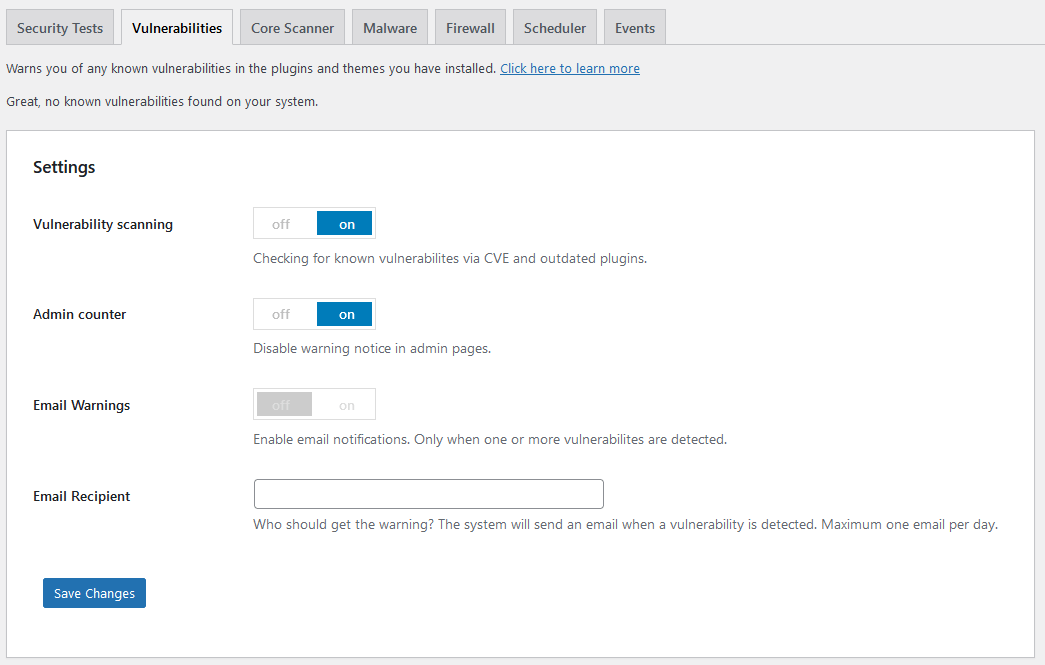 A vulnerability scanner scans public repositories looking for WordPress vulnerabilities and compares them with the plugins on the site.
This feature is available to free and pro Security Ninja users.
Security Testing for WordPress websites
This feature is the core of the Security Ninja plugins and the result of years-long know-how and knowledge of WordPress security.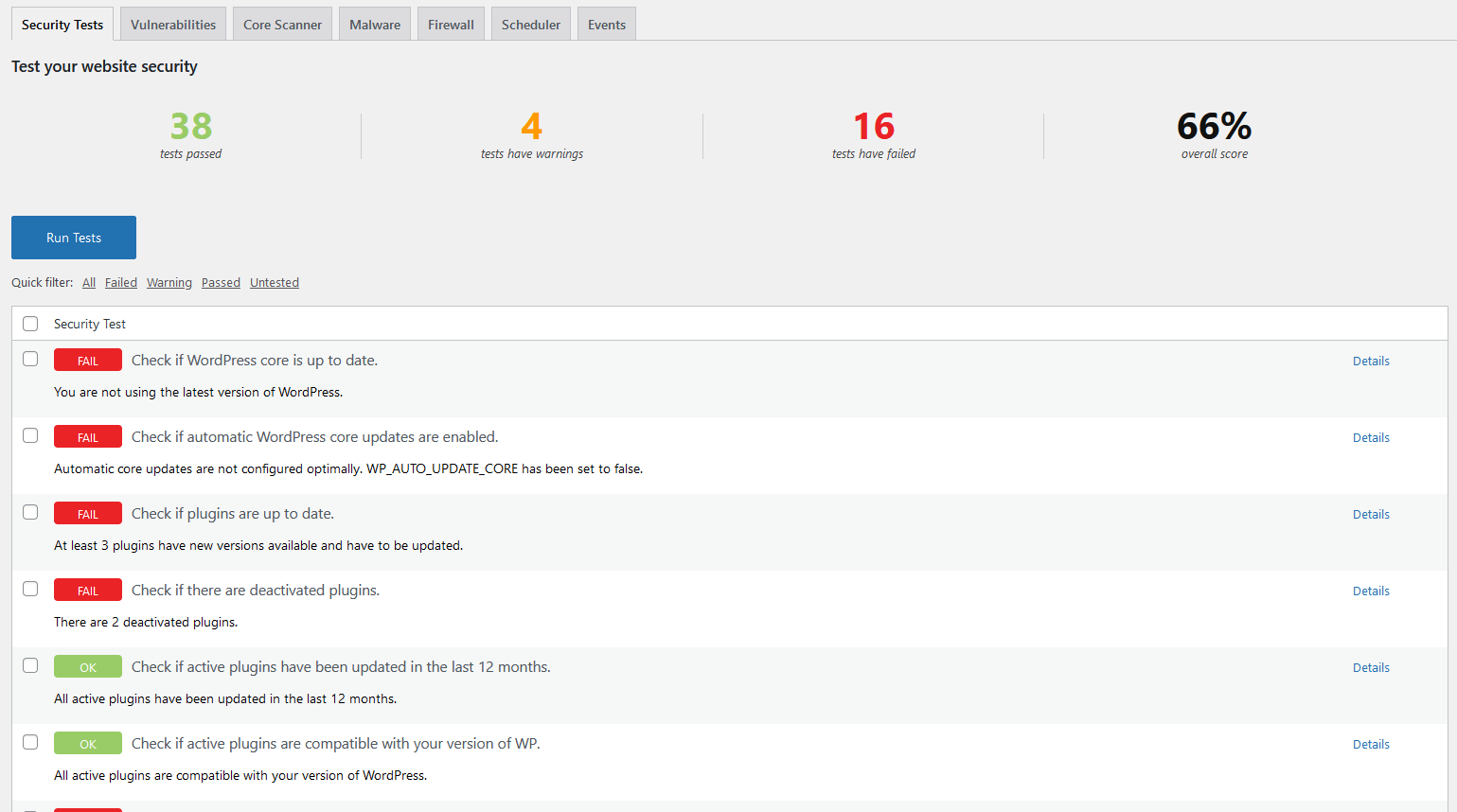 The security testing performs 50+ tests in a minute and gives you everything you need to know about the website.
From password quality to MySQL accounts configuration – this feature tests everything and gives a detailed description of each test.
Some issues, Security Ninja tests, can be fixed with the auto fixer feature included in the pro version.
Security testing is available for both free and premium Security Ninja users.
Wrapping up
Security Ninja is definitely the best WordPress security plugin. With more than 11 years on the market, a few dozen thousand satisfied users, and plenty of available features, Security Ninja is the universal security plugin.
In case you want to test the plugin before you install it on your website, Security Ninja offers demo testing of its features and interfaces.